Phymetrix Panel Displays: DD4 & DD5
Provides Remote Display and Power for all Loop-Powered (2 wire) as well as 3&4 wire transmitters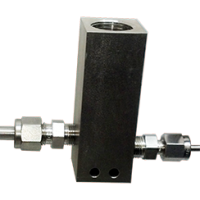 Sample Cell
Allows simple connection for extractive and low volume in-situ sampling.
Built-in 100 micron self-cleaning filer.
Phymetrix Mini Heat Exchanger Model: PMHX
130" of 1/8" Stainless Steel tubing, coiled 1.5" dia. x 6.5" long; with 1/8" Swagelok bulkheads at each end.
Dissipates approximately 90% of temperature gradient between sample and ambient.
For use with PPMa, PPBa or other analyzers.
Phymetrix USB – HART Interface modem Model: UHi
Plugs into a PC or laptop standard USB port and provides an interface to any HART communication program including PhyAI.exe. Allowing the user to read the PLMa analyzer measurement log it and or reprogram the PLMa HART setup such as range, units, etc.